BEFORE YOU SEE BLACK PANTHER- CHECK OUT MY REVIEW Marvel is about to gain more praise, break ground, and deliver yet another hit. Black Panther will finally be released and while he might be the first black hero, he's not Marvel's attempt at bringing a black hero to the screen. For that, we need to go back to the late 90s and revisit Blade. What Marvel does do is take an old black hero and bring him to the forefront for a new generation. It is a very welcome change and Black Panther definitely has the Marvel/ Disney machine behind it. It is very good. It pushes all the right buttons. It delivers what was promised, but it does have a few large flaws. We will get to those, but first let's talk about the movie. Mild spoilers at best will follow. you have been warned.
We first met Chadwick Boseman's T'Challa in Captain America: Civil War. After the death of his father, he returns to his native Wakanda to claim the throne and lead his people to a new age. Technologically advance, but isolated. Wakanda has survived for thousands of years by staying hidden and creating an amazing world centered around vibranium. The strongest metal in the world and the source material behind Captain America's shield. While attempting to apprehend Klaw ( Andy Serkis) for murder and stealing vibranium, he uncovers a secret that he didn't know his father had kept. He also faces a new threat that not only puts his throne at risk, but the outside world too.
The first thing the movie gets right is the cast. Top to bottom it is great. Forrest Whitaker, and Angela Basset are solid, but I really liked Sterling K Brown in his brief role. What separates Black Panther from the rest of the Marvel movies is pattern. It follows it's own more so than repeat the same formula. Granted, that formula is a proven winner, but this movie definitely stands on it's own. My favorite part of this film is the fact that nothing feels forced. It is very much it's own story and it stays within that. The action gets a bit CGI heavy at times, but it is a super hero movie.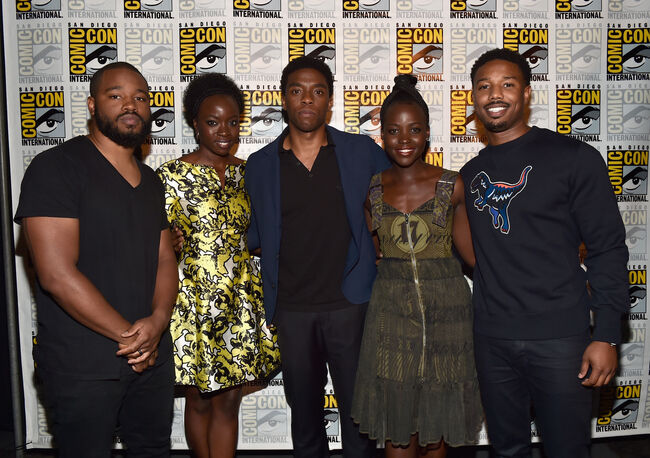 What I loved about Black Panther is it's diversity. The film has very strong, intelligent, and capable females and the best part, they are in no way forced. They fit naturally. They are real and written to appease anyone. They work. We live in a world of what are called Social Justice Warriors. They need to realize that great female characters and strong ethnic leads are better when they are not shoe horned in to fit agendas. Lupita Nyongo, Danai Gurira, and Letitia Wright are incredible in this movie. They are so well defined as characters and are truly a highlight of the film.
Black Panther also has one of the best villains in the Marvel Cinematic Universe. Andy Serkis is fun as Ulysses Klaue, but he isn't the big bad. That task falls on Michael B. Jordan as Killmonger. He looks incredible. He is magnetic on screen, but the best part is the fact that he is good at being bad. He is bad guy with clear motives. He wants to rule the world. He isn't afraid to kill and he doesn't want to be redeemed. He is one of the better villains that Marvel has put on film. It is also really good to see Michael B. Jordan get another run in the Marvel Universe. No one should have to be remembered for that horrific Fantastic Four from a few years back. The star of the show is Chadwick Boseman. He was one of the many highlights of Civil War. He is bad ass in the suit and as a hero, but he goes well beyond that. He conveys the honor of T'Challa with flat out charisma and likability. I think he is another in a long line of successful casting choices by Marvel. He is a great hero and a solid role model.
I only really had two problems with the film. Chronologically, I feel like this movie should have come after Civil War and before Thor Ragnarok. It is a great world builder where Wakanda is concerned and an even better character introducer. It does very little to set up Avengers: Infinity War. The other issue that I had were the not so subtle political messages in Black Panther. I understand that it is a huge platform. I am also a firm believer that things need to change in this country. I just prefer that my popcorn friendly super hero films leave that stuff out. I watch these to forget the state of the world for a couple of hours. All of that being said, Black Panther is a really strong film. It is another smash for Marvel. Not as good as Civil War, but way above average.