I said jokingly to the latest friends that I had on JonJonAF that I am still in a "WhoDaze" from the first playoff win in 31 years. Some laughed, most just humored me. But that is the moral of the story...more Cincinnatian's finding themselves laughing, smiling, & full of a new, uplifting fuel. You don't have to know a thing about football or sports to be able to enjoy this. Instead of us dwelling on another draining political issue or the negative aspects of our reality, a playoff win from our hometown team has given us something else (great) to talk about. I'd much rather have a debate with someone about "Joey Franchise" being a top 5 QB versus...well...anything else plastered on my feed. We've found a sense of pride and new ways to band together apart of #WhoDeyNation. Hell I've heard of some local small businesses who have doubled & tripled their sales because of this team! That's undeniable!
In fact, it was some of the latest friends I had in studio who were able to say that to me with cheek-to-cheek smiles on their faces. This has been some of the most enjoyable radio I've had the pleasure of doing in my 15 years in this business. We're all fans & friends now. If you haven't yet, hop on this wagon...there's plenty of room! And let's enjoy this together, Cincinnati!
#RuleThePlayoffs #WhoDey Tony DaTiger agreed to make me his "twin tiga". #WorthIt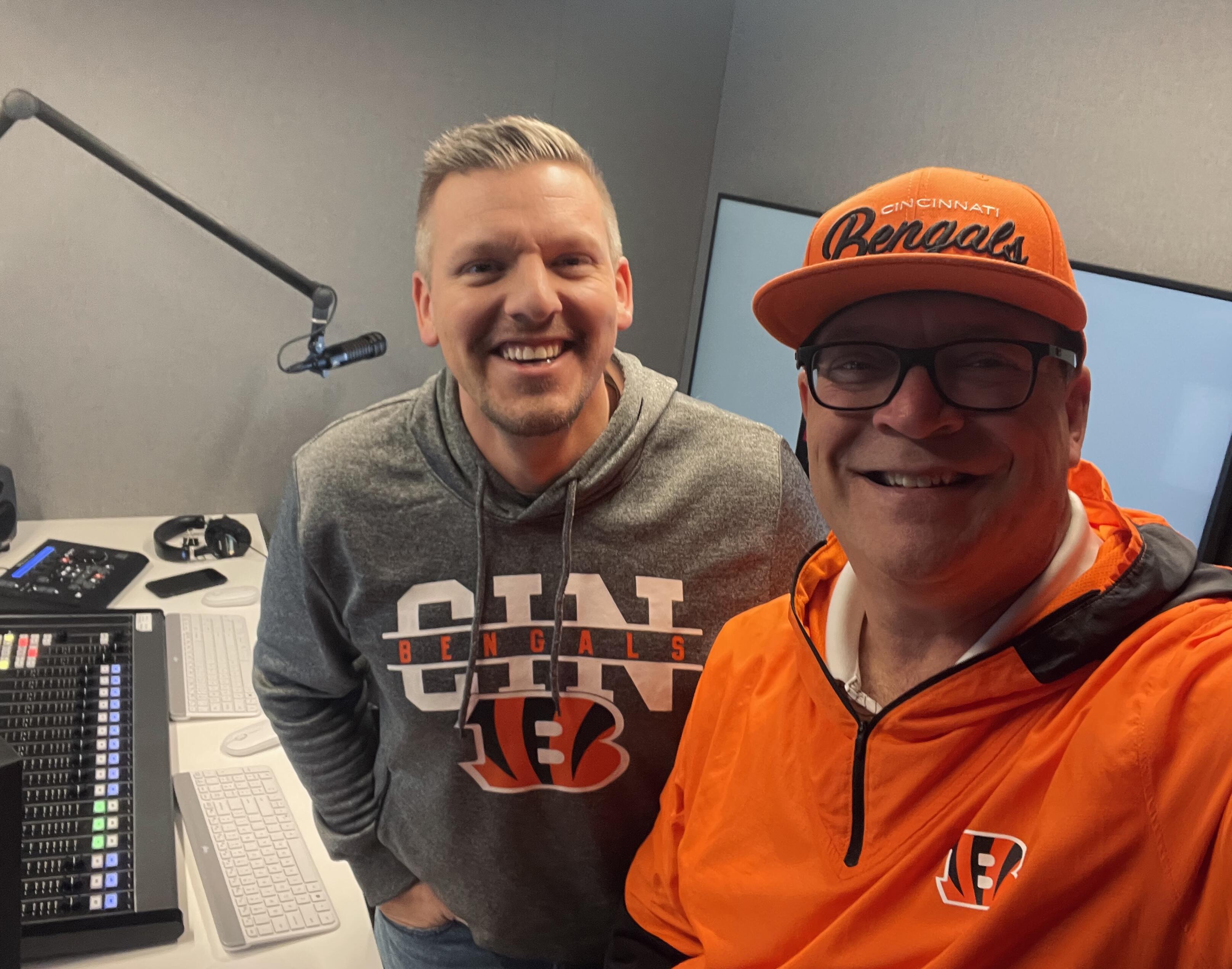 Bengal Jim (Jimmie Foster)...the "Fan of the Year" known for his longest-running tailgate in Cincinnati & just all-around incredible guy! Not to mention, he gave away playoff tickets to a lucky winner (Angie) as a Friendly Favor. See what I mean? Incredible. Delaney ("senior" Ben-Gal) & Ashley ("freshman" Ben-Gal) should be applauded for humoring my lack-luster dad jokes (And because they were a blast!). Sasha Parker-Cochran was full of #WhoDey spirit as well...that and the coffee she provided us to go in the new "Golden Girls" mug she got me :D Yasmine (Yas the Commissioner) is a Jungle leader(?). Who Dey Nation knows EXACTLY how unreal this is to have her in studio. Find her on Twitter and you'll see what I mean @commissioneryas Heather King had no idea what I was throwing her into on WhoDey UK Day! She's from the UK, but has been here for almost a decade and has an amazing studio called "Nailed It" to make custom projects like the one she gave me in this picture. Oh yeah, she's a Bengals fan :D Best pic I could snag with Paul Hirons who was the driving force behind WhoDey UK Day as he is the leader of the passionate Bengals fanbase in the United Kingdom. So he joined the show for a bit to talk Bengals & biscuits with myself and Heather. Somehow this chump Drew Lachey got back in studio. Again, security has some weak links we're addressing... Michelle Jones (@HeyMichelle!) was an eventful day to say the least! She does amazing things for local Cincinnati with her blog. We spent plenty of time talking food & WhoDey until the Great American interrupted us.....observe below.... DJ Etrayn (Eddie Traynor) swung back thru to spend time on his phone arguing on a group text about The Bachelor :D David (Fuseamania) was here to hang for National DJ Day & talk about the party music he has planned to celebrate another #WhoDey win this weekend! Another great local DJ for National DJ Day (Jonathan Klein - DJ JayKay) awarded Best Wedding DJ. He shared his story about our first interaction where someone told him who I was and he said, "Who the hell is JonJon?". #Humbled ...anddddddd finally, I can't forget Elle who made a sales pitch video with her mom Jenny for Girl Scout cookies. So I had to have her in to make the same pitch on the air. Adorable is an understatement.